WHISKY TASTING SETS
Each whisky set contains everything to host your own tastings - whiskies, tasting cards, a tasting guide and a whisky tasting mat.
WHISKY GIFTS & SUBSCRIPTIONS
Whisky sets available to buy as a one-off or as a subscription. Sets can be personalised with the recipient's name and a small message.
THE IDEAL GIFT FOR Whisky Lovers
Looking for the ideal gift for a whisky lover? Or perhaps you'd like to treat yourself to some whisky miniatures? You've found the perfect place. Whisky Tasting Company is a leading bottler of Scotch whisky and we offer a diverse range of luxury whisky gifts and tasting sets.
Whether you're new to the spirit or well-attuned to its distinctive flavour, we have everything you need to enjoy the drink (and become a whisky connoisseur) from the comfort of your own home.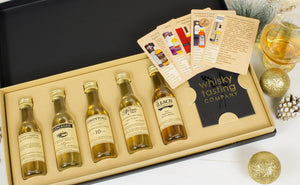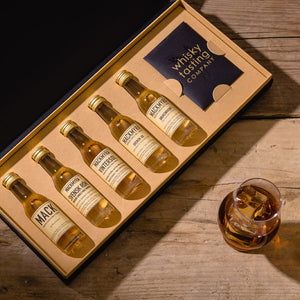 CLASSIC WHISKY TASTING SETS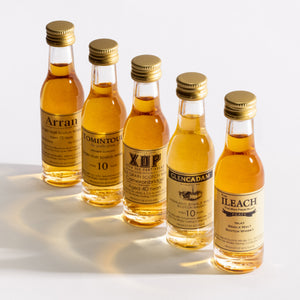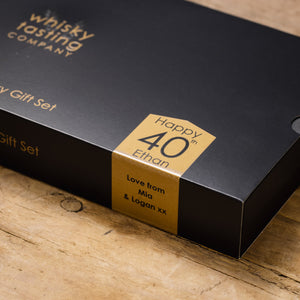 PERSONALISED BIRTHDAY WHISKY SETS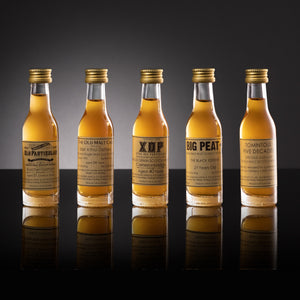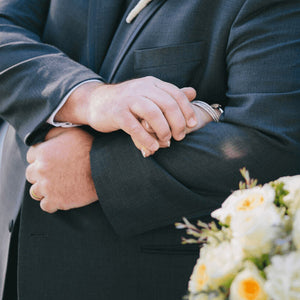 WHAT'S INCLUDED
3 OR 5 WHISKY MINIATURES
Depending on the specific set chosen, it will feature either three or five whisky miniatures. These are re-bottled at our professional facility in Scotland and come in 30ml measures – which is just enough to savour the special taste and truly appreciate the unique flavour of each.

We have a diverse range of whiskies for you to choose from. Selected from some of the best whisky brands in Scotland (and beyond), these can be separated into three main categories:

Core Whiskies
Old and Rare Whiskies
Birthday Whiskies
WHISKY TASTING CARDS
All of our whisky miniature gift sets come complete with a series of tasting cards. These provide educational and interesting facts about the whiskies and include information about the: distillery, whisky region, whisky maker or bottler, original bottle, flavours to look-out for, limited edition details, cask type & strength.

Stored in a luxury branded envelope, the tasting cards are a great keepsake. You can show them to your friends and family or perhaps collect cards from a particular region or distillery. If you wish, the information can also be used to track down an original bottle of your favourite whisky from the set.
WHISKY TASTING MAT
Inside each whisky set, you will also find a luxury whisky tasting mat. This is printed with a unique shot of a Scottish landscape or distillery – taken by our in-house photographer, Elizabeth Evans – and gives the set a high-end, sophisticated touch. It offers the perfect place to set out your whiskies and, as you take a sip of each, you can record your notes in the space provided.
LUXURY GIFT BOX WITH OPTIONS TO PERSONALISE
Each whisky tasting set comes beautifully presented in a hand-made box.
All of our whisky miniature gift sets can be personalised with the recipient's name and a small message and are available for a fair price.
If you're feeling particularly generous, you could even treat them to a 3 or 12 month subscription. Send our whisky as a gift and show that special person just how much you care.
Send whisky as a gift
We have a comprehensive range of whisky miniature gift sets. These are a thoughtful gift for a whisky lover; something they'll love and appreciate – and remember for many years to come!
You can choose either a standard set from our core range, or one that has been expertly curated to mark a particular occasion or milestone. Perhaps the lucky recipient is getting married or walking you down the aisle? Perhaps they're celebrating a special birthday? Or maybe they just need a little something to cheer them up? There's a tasting set in our collection to put a smile on their face.
SHOP GIFT SETS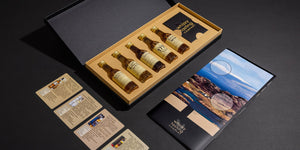 A one-off treat or a subscription
All of our whisky gift sets are available to buy as a one-off. As such, they're a fantastic treat – either for yourself or a lucky friend – and can be purchased for a special occasion or event. They can also be branded and bought in large quantities for use within a business or organisation.

We also offer several whisky subscriptions, including:

A three-set whisky subscription

A one year whisky subscription

A one year silver whisky subscription

A one year rare and premium whisky subscription

Which ever subscription you choose, the whisky sets will be delivered quarterly (i.e. every three months), allowing you to learn about and taste a variety of different whiskies throughout the year.
SHOP SUBSCRIPTIONS
Here at the Whisky Tasting Company, we take great pride in what we do. That's why all of our whisky sets are of exceptional quality. We only ever use the finest brands and work with the most prestigious whisky makers in the country. Each set is presented in a beautiful hand-made box and, to truly delight our customers, we add little extras such as tasting cards and mats.
Our whisky tasting sets are available for a very reasonable price. We may be a small business, but we're HMRC-verified and we've won numerous awards for our luxury products (e.g. Theo Paphitis' Small Business Sunday Award).
Ultimately, our goal is to give whisky lovers a chance to learn, taste and enjoy the exquisite flavours of this beautiful spirit in their home. So, why not browse our collection today and see what all the fuss is about?
Absolutely – all of our whisky tasting sets are the perfect gift for a whisky lover. In fact, some have even been created specifically with an occasion, celebration or milestone already in mind.
If you wish to send whisky as a gift, simply select the set you wish to buy and click 'with personalisation'. This allows you to type in the lucky recipient's name, as well as a small message to be added to the front of the box. Once you're through to checkout, you can add a further gift note to the order and choose where you would like it to be delivered. Either send it directly to the giftee or have it delivered to your home address – so you can present the lovely gift to them yourself.
All of our whisky tasting sets are a fantastic gift for a whisky lover – so, whichever you choose, they're bound to love it. To make the decision a little easier, we offer a range of:
birthday sets, featuring aged whiskies for a 30th, 40th or 50th birthdaywedding gift sets, for the father of the bride or groom, usher and best manseasonal gifts, for Christmas, Valentine's Day, Mother's/Father's Day etc.
These can all be personalised to include the recipient's name and a small message and, priced around £30-40, they're an affordable yet thoughtful gift for a special person.
It depends on which gift set you choose and the specific whisky miniatures included. Three-bottle sets start from around £18, whilst five-bottle gift sets fall somewhere between £30-£80. Subscriptions start from £89 and will vary depending on the specific products and length chosen.
Considering the luxury nature of the product, these are incredibly competitive prices – and, when our whisky tasting sets arrive at your front door, you'll see they're worth every single penny.
Our whisky tasting sets don't take long to put together. Even if you're sending whisky as a gift, and choose to personalise the gift box, we get to work straight away and will dispatch your order as soon possible. In most cases, your whisky miniature gift set should arrive in 2-3 days (occasionally four).
Unfortunately we're unable to schedule or delay sending, so please order with the above delivery guidelines in mind.
Want to brand these for your business or organisation - please get in touch.
GET IN TOUCH TO START YOUR WHISKY TASTING ORDER
If you have any questions about the whisky gift sets and subscriptions available, you're always welcome to get in touch. Our team of experts are on hand and happy to help. Just fill out our online contact form and we'll respond to your enquiry as soon as possible.
GREETINGS CARDS WITH WHISKY BOTTLE
Our sister company Message And A Bottle provide a wide range of premium whisky, gin, rum, brandy and vodka miniature bottles inside a greetings card and have designs for all occasions.
SHOP CARDS